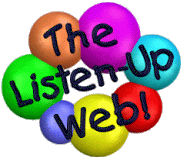 Listen Up Resource Page
| | |
| --- | --- |
| | This section of the web is much larger than it appears. Each of the following links will lead you to a vast array of information. In fact, this site is so large that I've added a pop up Listen-Up Web Site Map to help you find your way around. On web browsers that support it, the web map will come up in its own window so you can surf the site and still have the map available. |
---
The Emergency Email Network - Get Notified of an Emergency by E-mail cell phone or pager from your local, regional and national government sources.
Tax Time is upon us. Here are some consider:
Medical and Dental Expenses: Topic 502 From the IRS
Credit for the Elderly or the Disabled - This is if you had to retire early because of a disability.
Form 8843 - This is if you are in the US from another country and could not return to your country because of the disability.
For info related to taxes in Canada, check out Canada Customs and Revenue Agency's Information for People with Disabilities.
Early Identification of Hearing Loss In Infants and Young Children
The Basics Here is where you will find basic information on communication options, hearing-impairment, aural/oral therapy and techniques, and language stimulation (including hints and tips from other parents).
Resources in Spanish
Beyond The Basics Speech Pathology, Audiology, Education and Medical Information & Resources and more.
The Devices Information and resources on hearing aids, cochlear implants, and assistive listening devices.
Your Rights - ADA, IDEA, Children's Rights Coordinators, Congress, Legal info....Since IEPs are often a source of problems for many, this page also includes links to information about IEPs.
Associations & Organizations
It Matters - Watch this page for any upcoming opportunities to make your voice heard.
Online Catalog & Product Resources - Professional Therapy Materials & Reference, Educational Materials, Products, Books & Assistive Devices, Augmentative and Alternative Communication (A.A.C.)
Hearing Dogs for the Deaf
Online Magazines, Newsgroups, e-mail Groups, & Listservs
Military Family Resources
DeafBlind Resources
Misc. Resources - Web sites that didn't fit in any of the above categories, unsorted sites, sites that fit into more than one category, sites that are lists of links, and people with a hearing loss that have web sites (not about hearing loss).
Cross Stitch Patterns relating to hearing loss.
International Resources - Links to web pages abut deafness from sites outside of the USA.
The Listen Up Book Store - Listen Up has joined forces with Amazon.com to bring you the very best selection of books relating to hearing loss and speech pathology.
Humor - Sometimes laughter is the best medicine.
Texas Info
Backgrounds For Your Pages - Every once in a while we like to play around and create background images. You'll find them on some of our pages. You are welcome to use these as long as you follow their terms of use.

If you have questions or comments about anything located on this site, please send mail.